IT infrastructure and its subsistence on the market play a significant role in a company or an organization. IT infrastructure enables the company to develop value in a particular time required to deliver what the market wants. To achieve this, the company or its IT department must overcome two main challenges:
The span of services IT needs to perform; i.e., the capacity that produces complexity,
The time it needs to change to answer the challenges the market produces, i.e., the flexibility.
Today, the company strives to reduce both the complexity and the time to establish an IT infrastructure that should meet the market's needs. Liquid gives us the solution for both.
Composable infrastructure was born as a combination of some of the best parts of Converged and Hyperconverged infrastructure, unlike HCI, which inserts a software virtualization layer. Composable infrastructure maps bare-metal resources to create a server instance that can be configured in a short period, at the request of the user or application reconfigured if necessary. We take a building-block-based approach with composable solutions, where resources are implemented as disaggregated pools and managed dynamically through the software.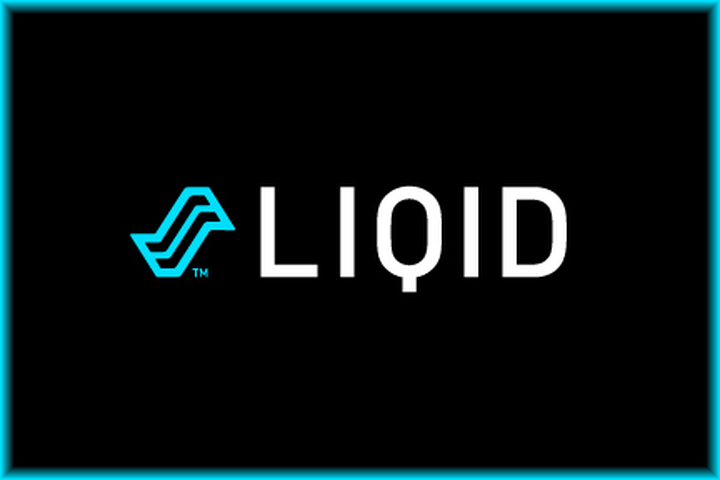 Liqid is the global leader in software-defined composable infrastructure, delivering the optimal adaptive architecture for next-generation AI-driven applications in HPC environments. The Liqid Composable platform empowers users to manage, scale, and configure physical bare-metal server systems in seconds and then reallocate core data center devices on-demand as workflows and business needs evolve.
The adaptive breadth of the platform makes it the most comprehensive composable infrastructure solution in the market today. For example, Liquid use cases vary from AI and Deep Learning, HPC, Clustering, to Dynamic Cloud and 5G Edge.
Liqid Composable Infrastructure is designed to address and solve problems by enabling valuable resources to be deployed through software in just the right amounts and with a minimum time spent on IT operations across PCIe fabric. Liqid Composable Infrastructure is interconnecting pools of compute, networking, data storage, and graphics processing devices to deliver incredibly advanced results through the PCIe fabric. The IT resources required to support applications would be deployed on precisely the right hardware content and at exactly the right time and then redeployed to another application when no longer needed. Liqid made time to configure, for resource capacity and infrastructure complexity, lower than ever, preserving high precision.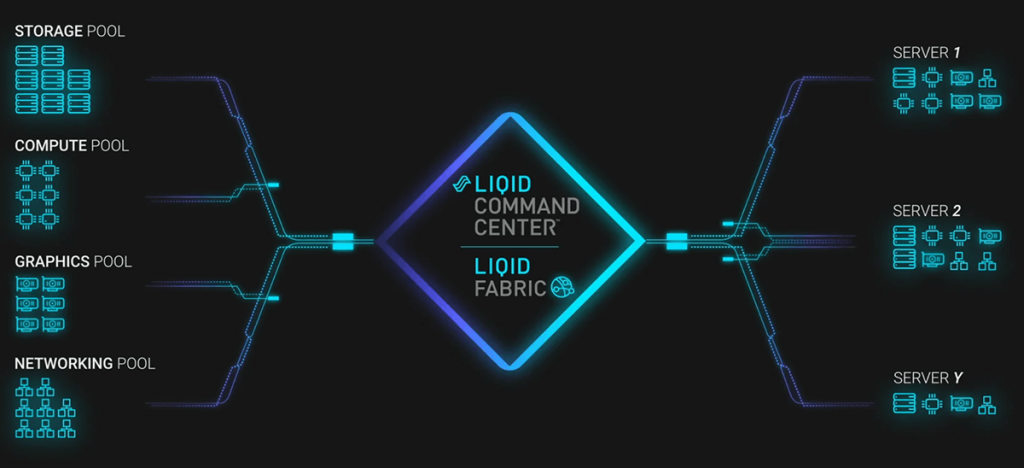 Liqid enables the ideal use of IT resources. There are no idle steps due to setup configuration or expansion, saving time and money. The solution consists of three primary components:
Command Center to manage the whole system,
Fabric to connect various parts of the system,
and compute resources.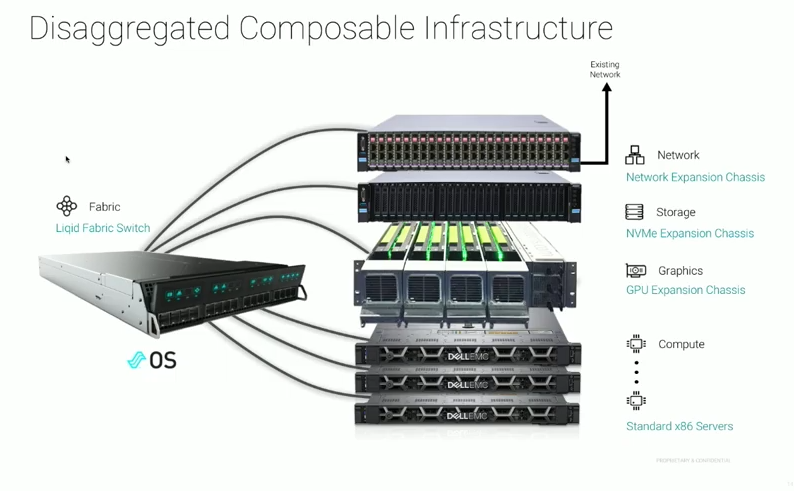 The MANAGEMENT
Liqid Command Center is the powerful management software platform that automates, orchestrates, and composes physical computer systems from pools of bare-metal resources. It provides administrators with a way to graphically and programmatically create the desired configuration systems using compute, storage, network, GPU, and other resources present on the Fabric.
https://www.liqid.com/products/composable-infrastructure/liqid-command-center
The FABRIC
The Fabric is a crucial component of a Liqid solution. All components in a server (i.e., CPU, memory, storage, GPUs) are connected through the PCIe bus. The Liqid solution disaggregates devices, removing them from one physical point and placing them in designated physical enclosures. The Liqid software maps this disaggregates devices across a PCIe fabric via copper or optical connection. Liqid Fabric switches offer low enough latency and allow the components to be disaggregated. Port-to-port measurements showed that the latest PCIe 4.0 Liqid fabric switch has a low latency below 100 nanoseconds, small enough to be non-impactful to the complex application.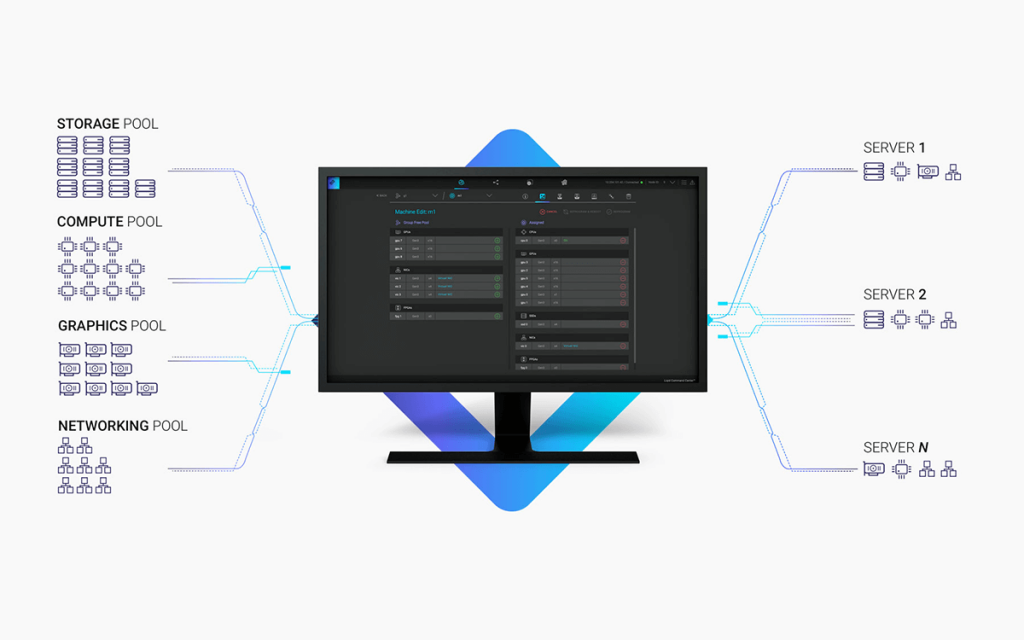 In collaboration with Brodaccom, Liqid has developed new PCIe 4 generation switches, and the real example is Liqid Grid LQD9448 48 Port Gen 4 Fabric Switch. This scalable and highly available PCIe 4.0 switch doubles throughput regarding PCIe 3.0, which allows the bandwidth of up to 256 GT/s(Giga transfers per second) per port, which reduces latency and increases performance.
This communication method, via PCIe fabric, enables Liqid to avoid additional protocol translation and make easier and faster communication between components. Using the native PCie network allows Liqid to combine many different resources and dynamically assign them to the physical server that the user needs for a particular application.
The RESOURCES
The Liqid composable disaggregated infrastructure uses software to create bare-metal server deploys pools of resources using commodity hardware of Optane-based Memory, NVMe, NIC's, GPU's, FPGA's. Compute resources are provided by commodity x86 servers containing both CPU and RAM. The Liqid Command Center software is responsible for the orchestration and connecting resources from approved hardware across ultra-low latency PCIe fabric and all major data center fabrics, including PCI-Express, Ethernet, and Infiniband.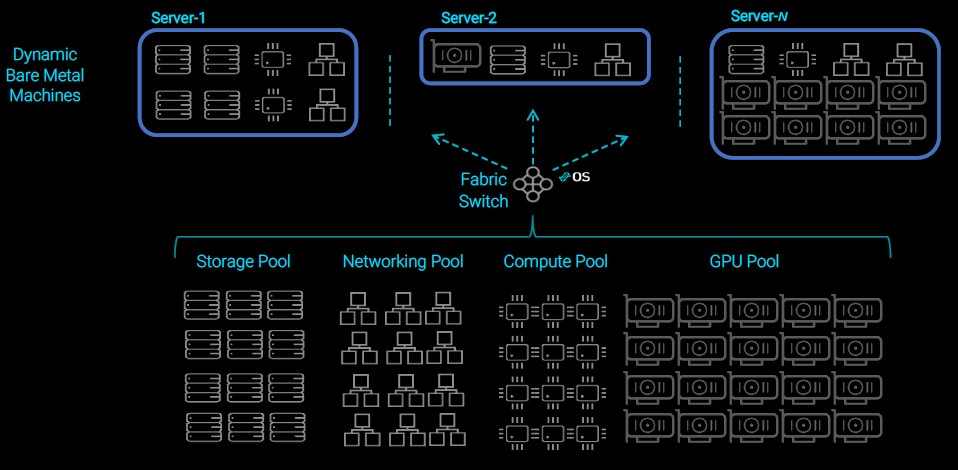 Components such as GPUs, FPGAs, NICs, SSDs, and AICs are placed in chassis, which can be connected via PCIe or Ethernet. There are several different ones, such as LQD300x20X Expansion Chassis, LQD300x04X Expansion Chassis, and LQD300x24X Expansion Chassis.
More information:
https://www.liqid.com/products/composable-infrastructure
https://www.liqid.com/products/composable-infrastructure/liqid-lqd300x04x-expansion-chassis
https://www.liqid.com/products/composable-infrastructure/liqid-lqd300x20x-expansion-chassis
https://www.liqid.com/products/composable-infrastructure/liqid-lqd300x24x-expansion-chassis
Liqid delivers improved resources with software-defined infrastructure composability for solid-state non-volatile memory (NVMe) solutions. Liqid enables IT users to compose NVMe devices alongside FPGAs, CPUs, GPUs, NICs, and other PCIe-connected technologies. Composable NVMe on Liqid intelligent fabrics expands the promise of composability, allowing IT users to create and maintain a more efficient data center infrastructure. Likewise, Liqid enables the clustering of dozens of GPUs for the most demanding workloads, real-time GPU to CPU allocation, and even CPU bypass for "peer-to-peer" data transactions. High-performance GPU resources are allocated through software at bare-metal across Liqid's ultra-low-latency platform, simplifying scalability and resource orchestration. Composable Intel Optane Technology combines the unparalleled high throughput, low latency, quality of service (QoS), and endurance of Intel Optane SSDs with Liqid's industry-leading PCIe fabrics. It provides composability with the scaling of capacity and bandwidth. Achieving DRAM-like data speeds, Intel Optane SSDs are allocated directly across PCIe as bare-metal resources.
Composable NVMe, GPU, and Intel Optane unlock the performance and efficiency necessary for a wide variety of use cases in artificial intelligence and machine learning, high-performance computing, cloud, and edge computing environments.
More information:
https://www.liqid.com/solutions/expansion/liqid-composable-nvme-flash
https://www.liqid.com/solutions/expansion/liqid-composable-nvidia-gpu
https://www.liqid.com/solutions/expansion/liqid-composable-intel-optane-technology