We all like to see our jobs as something we can enjoy and something that makes us better every next day. On the other hand, every job has a futile and boring aspect, which often drowns us in boring routine and uninspiring search for some small problem that causes a big one. This is where, I think, technology can step in and improve our lives by improving our work environment. Using technology to overcome boring routines and provide an individual with enough free time for innovation and complex problem solving is the path to unleash that great potential and creativity in every engineer. One of the essential benefits of enterprise IT solutions is to help us get rid of those annoying and futile tasks and enable us to concentrate on the real technical problems and challenges. Runecast Analyzer does just that!

It is a comprehensive tool for mitigating your hybrid cloud infrastructure's configuration issues and security risks. With Runecast, you can optimize and secure your cloud or on-premises infrastructure. The basis of this technology is the AI engine that converts every source of information your industry has into machine-reliable data. Runecast Analyser processes that data and then scans your VMware and AWS environments for problems that are not so easy to detect. Problem detection is based on advanced AI algorithms and deviation from best practices that vendors or users set. Runecast Analyser can also see anything that is not compliant with the security frameworks you've set.
Have a quick look into how Runecast Analyser GUI looks like: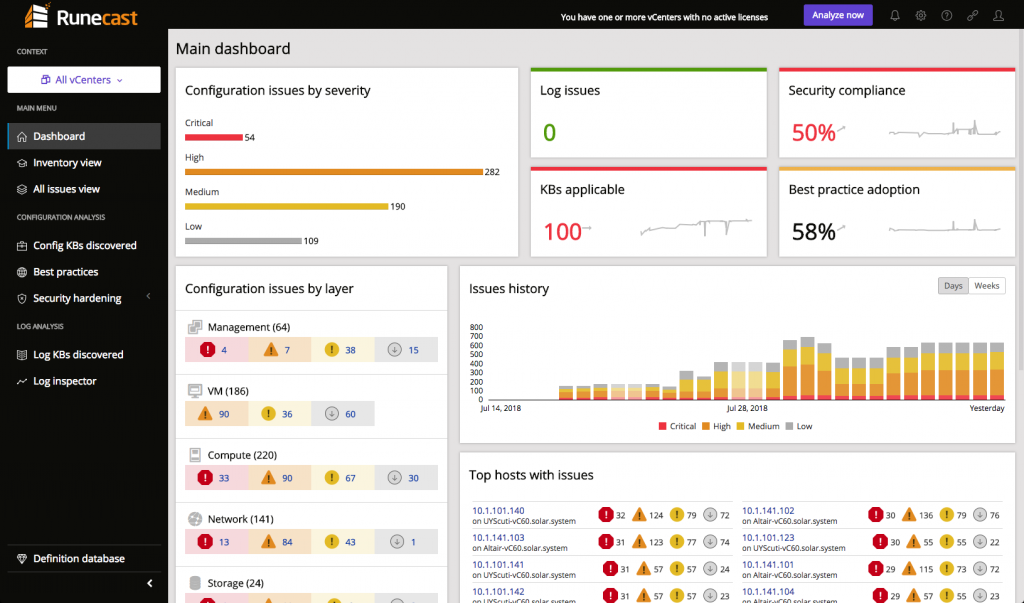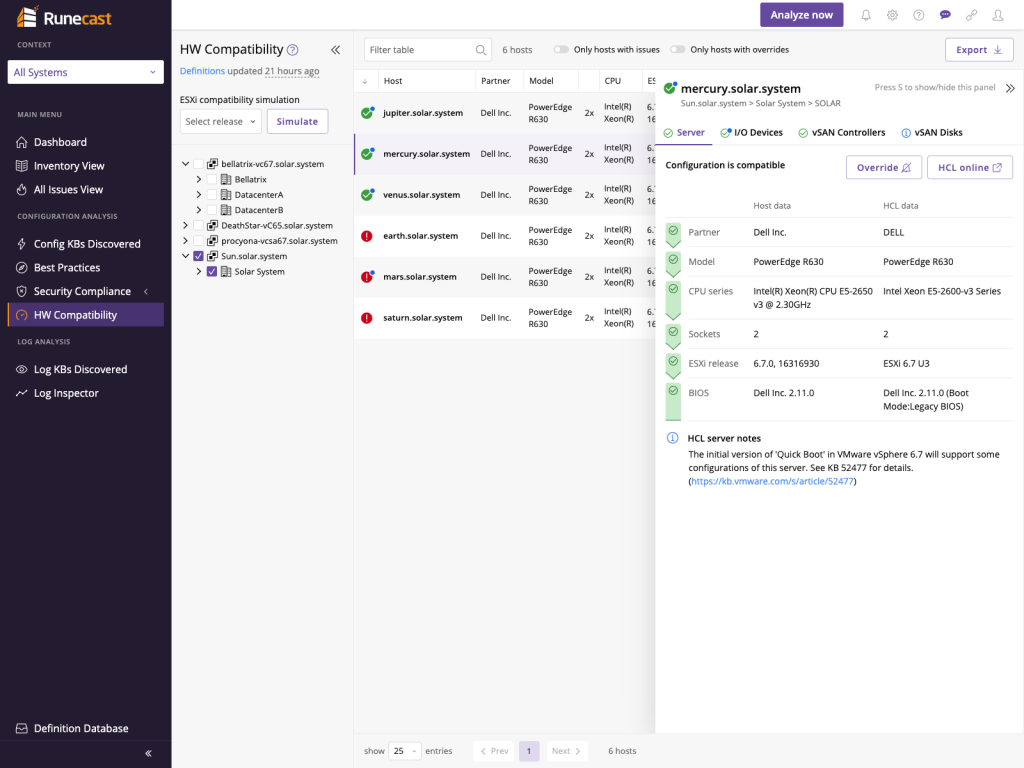 There are several critical features of Runecast Analyzer that you need to check out:
Issue prevention
A far as use cases go, this is the main feature of Runecast Analyser. It means that this software checks environment for configuration problems against known issues, industry best practices, and security compliance standards. The intention is to provide you with the full set of insights to stabilize and secure VMware and AWS infrastructure.
Log analytics
The second best thing with Ruencast is that it provides log files monitoring of ESXi host & VMs and instructions and tips on quickly resolving any issue.
Runs Fully on-premises
One of the essential features addressing your infrastructure's security issues is this product's ability to run locally on the Runecast Analyser appliance. It means that no data is sent outside of your control, and it can work totally offline, with updates applied out-of-band. Of course, you can update your appliance automatically from an online repository if you want it connected to the internet.
Security Compliance
We all know how compliance and regulations can be complicated and hard to manage. It is the main reason why the Runecast team integrated this feature in their monitoring solution. Runecast Analyser continuously evaluates your compliance against BSI IT-Grundschutz, CIS CSC, DISA STIG6, HIPAA, NIST 800-53, GDPR, and PCI-DSS. This tool is also CIS Certified for both vSphere and AWS..
Upgrade simulations
We all know how it can be complicated to update a complex IT system's component and how hard it can be to predict what can happen after upgrades. With Runecast, you can simulate an upgrade so that you can evaluate hardware, drivers, and firmware against current and future releases of ESXi, thus predicting many possible issues.
By the numbers:

Braineering strongly recommends using this software solution from London headquartered vendor, no matter your business or organization's size. Runecast Analyser is something engineers always wanted from VMware because troubleshooting took too long, and in many cases, it required contacting VMware support. It indeed is one of the best 3rd party software for your vSphere or AWS environments, and it just feels like having a technician auditing your environment 24/7. It can reduce monthly IT infrastructure issues to potentially 0 cases a month and provide you with 80% operational time savings.
You can try Runecast Analyzer with a free 14-day trial or request a demo from their site (www.runecast.com), or contact Braineering, and we'll get the info you need. Braineering can also help you with a quick IT environment check to see what benefits Runecast Analyzer can bring to your business. We are happy to hear from you!
Below you can see system requirements and supported products list for Runecast Analyzer!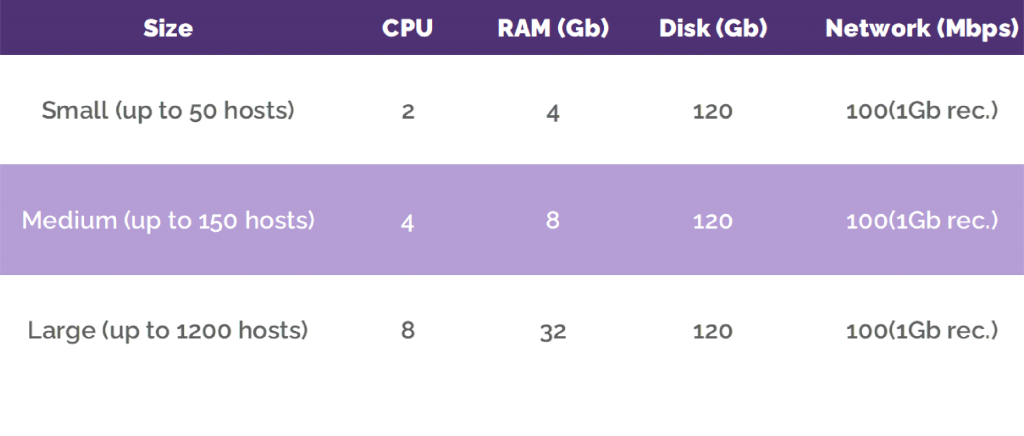 System Requirements
Network communications between Runecast Analyzer, vCenter Server, ESXi, NSX Manager, Horizon Connection Servers, and the AWS APIs all take place over a secure HTTPS connection (TCP 443). ESXi communication to Runecast Analyzer for Syslog communication runs over the standard Syslog port (UDP 514).
SUPPORTED PRODUCTS:
AWS – AWS Config, AWS Health, Cloudfront, Cloudtrail,
Cloudwatch, EC2, IAM, RDS, Redshift, S3, VPC, AWS
Inspector, EFS, Kinesis, Lambda
VMware – vSphere 5.x+ (fully supports vSphere 7),
vSAN, NSX-V 6.2+, Horizon 6.x+
Kubernetes, PureStorage SAP HANA on VMware